Client: Novation
Project: Corporate Web Site
URL: http://www.novationco.com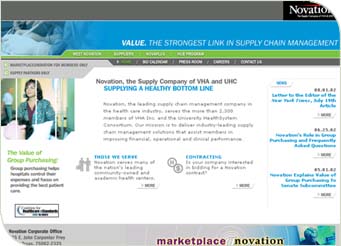 Challenge:
In December 2002, Novation, a company based in Dallas, TX, was searching for an established web design firm with proven corporate identity design expertise that could update their site and create a more user-friendly corporate web site design that their in-house web site support team could implement before several important upcoming industry tradeshows. After comparing Advansiv's corporate designs with a local web site design firm's, Novation turned its eye to Florida based firm Advansiv. Learning about our demonstrated corporate web site development strategy and implementation expertise, both Novation's management and web site support team recognized the value Advansiv could add to the entire web site development process. With that in mind, Novation commissioned Advansiv not only to design the web site as originally intended, but also to manage and develop the entire novationco.com site. The site was to be appealing, modern, easier to navigate, and more representative of the new Novation brand.



Advansiv Solution:


Through creative, strategic, and technical collaboration, we designed and delivered an effective and engaging corporate web site in time and within budget.



Benefit:


By launching their new site on time and within the allotted budget, Novation strengthened its online presence before a number of decisive industry tradeshows. In addition, Novation's web site is now perfectly inline and intune with its new overall brand.



Quote:



"Advansiv's project management and planning went a long way in getting our web site organized, up and running."

Claudia Thiem
Novation



Client: Novation
Project: Publication Initiative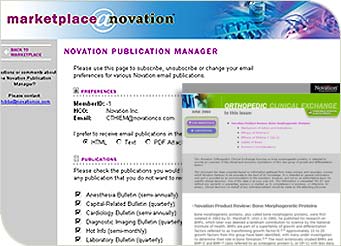 Challenge:
In the fall of 2002, Novation, the health care industry's leading supply chain management company, wanted to improve the timeliness and reduce the costs associated with the various company newsletters it produces. In addition, Novation wanted to improve the design and functionality of their e-publications, as well as manage the subscriptions. Having been pleased with the work done by Advansiv on its corporate website, the company asked for our assistance again.

Advansiv Solution:
We developed Novation's e-mail subscription system, and designed the new layouts for all of the newsletters. We took on the responsibility of sending out the publications to their subscribers and included an advanced service that keeps track of important statistics related to the publications and the people they are sent out to. Advansiv continues to promote Novation's publications through the creation and dissemination of print, web and direct mail advertisements.
Advansiv created Novation's e-mail subscription system and integrated it into its extranet site at Marketplace@Novation. This allows Novation's users to login, choose the publications they wish to receive and choose how they want to receive it, i.e. text, HTML and PDF.

Benefit:
With Advansiv's help Novation was able to lower costs, communicate faster, and offer greater flexibility in regards to their publications. Our publication options provide Novation with useful information so that their content better targets their users.

Quote:

"Advansiv did a great job creating and managing our new e-publication process. This has helped us decrease costs and expedite our communications with members. It has allowed us to measure our efforts and has resulted in positive feedback from members."

Claudia Thiem
Novation