Client: Forensis


Project: Corporate Identity Package and Web Site Design
URL: http://www.forensis.com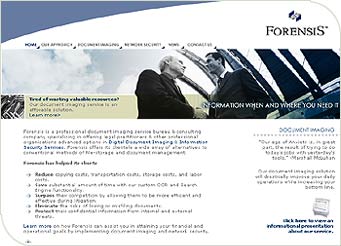 Challenge:
Forensis offers document imaging services and information security services mainly to law firms. Forensis came to us in 2002 to give their brand a consistent, professional look that would appeal to law firms' desire to work with a solid company that takes security seriously. On top of all that, we had keep the project's value within Forensis' budget.



Advansiv's Marketing and Web Site Solution:


Our design team created their corporate identity package (logo, letterhead, business cards and PowerPoint template). In addition, we gave them a solid web presence with their corporate website at www.forensis.com; and with a consistent look across the board that showed the security and solidity of the Forensis brand. To Forensis' joy, we did all this without going over their budget.



Benefit:


With Advansiv's help, Forensis has all the tools they to get their name out to their target market. The corporate identity package and corporate website gave Forensis a recognizable brand identity and a web presence. Most importantly, they were able to get all this done within their budget.



Quote:



"Advansiv was able to give our brand a consistent, professional look within our budget and short time frame."

Chris Hansen
Director of Operations and Sales